OWC Thunderbolt 3 Dock
The Right Ports, Right Where You Need Them
With its 14 ports of connectivity thoughtfully placed, the OWC Thunderbolt 3 Dock delivers convenience while keeping desktops clutter-free. The dock's front is designed for the easy connection of your portable devices, headphones and media cards, while the rear features a multitude of ports for your static devices so cables stay out of sight.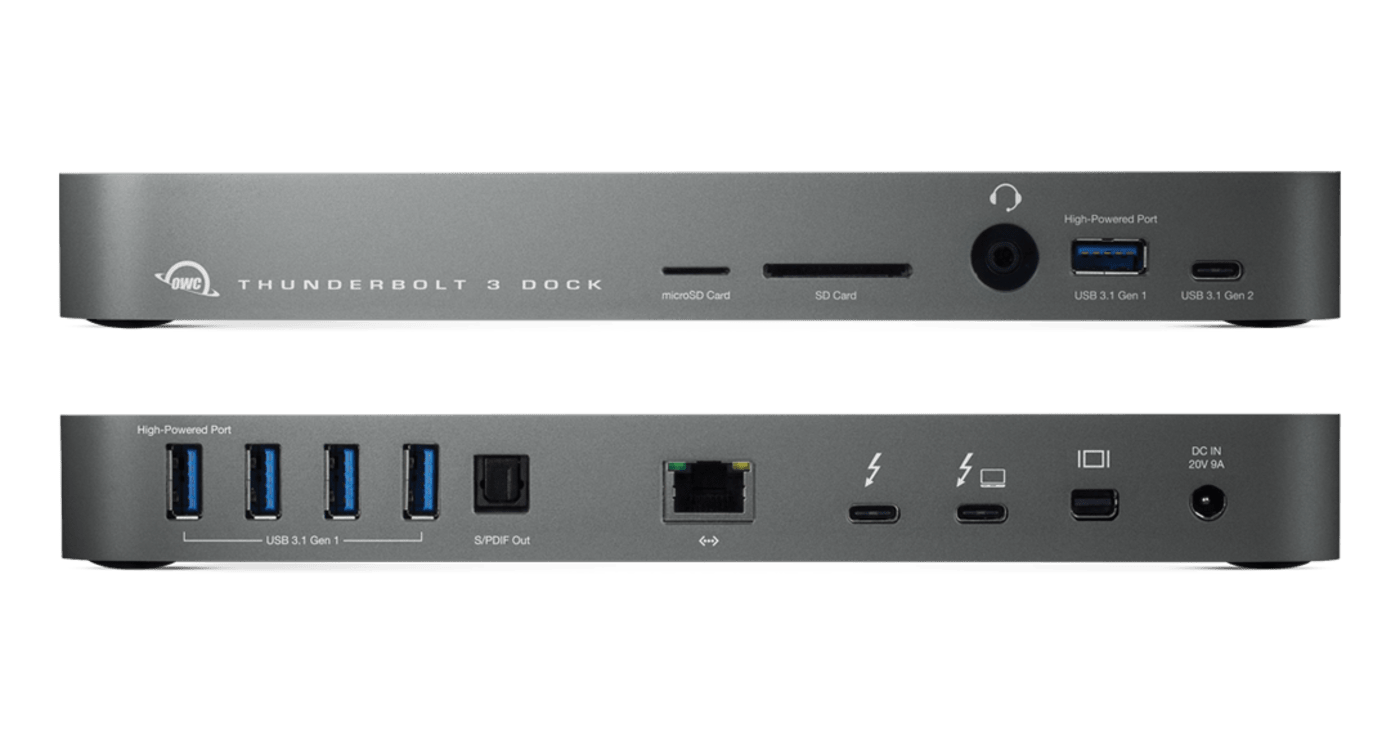 (2) Thunderbolt 3 (USB-C) ports (Thunderbolt 2/Thunderbolt backward compatible)
(1) USB-C (USB 3.1 Gen 2) port
(5) USB-A (USB 3.1 Gen 1) ports
(1) Mini DisplayPort Port
(1) Gigabit Ethernet (GBE) Port
(1) S/PDIF Digital Audio Output Port
(1) 3.5mm Stereo Audio Input/Output Combo Port
Power To The Ports

Leave your power adapters in your bag! The OWC Thunderbolt 3 Dock provides 85 watts of power to your computer via the Thunderbolt 3 connection and has multiple, high-power USB ports to charge your mobile devices. The days of searching for your power adapter are officially over.
Disconnect In One Click

OWC Dock Ejector safely disconnects all connected drives in a single click. Designed by OWC hardware and software engineers, Dock Ejector ensures all data is written before disconnection, saving time and protecting against data loss. Use it to move quickly between workstations and get the most out of your Thunderbolt 3 Dock. Learn More
Thoughtful Design – Inside and Out

Carefully chosen ports and functionality bring a new world of possibilities to your desktop, but we've also worked to ensure the OWC Thunderbolt 3 Dock is built to last. A seamless design wrapped in a single piece of aluminum brings a rugged exterior to endure your day-to-day, while maintaining a stylish design that complements any workspace.

Pro-tips: Daisy-chaining With Thunderbolt Devices
With the ability to run up to six devices per port, Thunderbolt ports amplify your laptop or desktop with peripheral power. Learn the basics of daisy-chaining Thunderbolt devices for maximum performance in this handy infographic. View Infographic
| | |
| --- | --- |
| | |
Includes
(1) OWC Thunderbolt 3 Dock
(1) 0.7M (29″) Thunderbolt Cable
(1) External Power Supply and Power Cable
(1) Quick Start Guide for OWC Thunderbolt 3 Dock
(1) OWC Dock Ejector for Mac and Windows (software download)
2 Year OWC Limited Warranty
Detailed Specs
Display Support
Up to one 5K display @ 60Hz,
or two 4K displays @ 60Hz
Display Support by Port
Thunderbolt 3: Up to 5K @ 60Hz via a native Thunderbolt 3 display or 4K @ 60Hz via a Thunderbolt display or a USB-C display adapter
Mini DisplayPort 1.2: Up to 4K @ 60Hz
Chipset
Thunderbolt 3 – Intel JHL6540
USB Type-C – ASMedia ASM1142
USB Type-A – Fresco Logic FL1100EX (x2)
Ethernet – Intel i210
S/PDIF Audio – C Media CM6533
Ethernet Speeds (RJ-45)
1Gb/s "Gigabit" (1000BASE-T)
100Mb/s (100BASE-T)
10Mb/s (10BASE-T)
Mac OS Compatibility
macOS 13.x Ventura
macOS 12.x Monterey
macOS 11.x Big Sur
macOS 10.15 Catalina
macOS 10.14 Mojave
macOS 10.13 High Sierra
macOS 10.12 Sierra
PC OS Compatibility
Windows 11
Windows 10 32-bit Edition
Windows 10 64-bit Edition
Windows Server 2016
Driver Required
High-power USB support is required for compatibility with the Apple SuperDrive and Apple USB keyboard, and is required to enable high-speed charging for Apple iPads, iPhones and other higher-power capable devices. To enable high-power USB support please download the appropriate app and driver bundle.
Host Port Requirements
Thunderbolt (USB-C) port (backward compatible with Thunderbolt 2/Thunderbolt1)
Power Delivery
Thunderbolt 3 host port provides up to 85W of power to the host computer
Replacement Adapter Part Number
Device Ports
(1) Host Port – Thunderbolt 3 (USB-C) up to 40 Gb/s (5000 MB/s)
(1) Thunderbolt 3 (USB-C) Port
(1) USB 3.2 Gen 2 Type-C Port up to 10Gb/s (1250MB/s) – USB 2.0/3.0 backwards compatible
(5) USB 3.2 Gen 1 Type-A Ports up to 600MB/s
(1) Mini DisplayPort Port
(1) Gigabit Ethernet (GbE) RJ-45 Port
(1) S/PDIF Digital Audio Output Port
(1) 3.5mm Stereo Audio Input/Output Combo Port
Memory Card Slots
(1) microSD
(1) Secure Digital (SD)
Housing Color
Chassis: Space Gray
Covers: Black
Housing Material
Chassis: Aluminum
Covers: Polycarbonate
Dimensions
Height: 2.5 cm (1.0 in)
Length: 8.9 cm (3.5 in)
Width: 23.0 cm (9.1 in)
Altitude
Operating: -304.8 m to 3,048.0 m (-1,000 ft to 10,000 ft)
Non-Operating: -304.8 m to 12,192.0 m (-1,000 ft to 40,000 ft)
Thunderbolt 2/Thunderbolt compatibility requires a certified Thunderbolt 3 (USB-C) to Thunderbolt 2 (mDP) adapter and a Thunderbolt 2 cable (available separately). This configuration provides data transfer at up to 20Gb/s but does not support notebook charging.
Both the SD card reader and the micro SD card reader are controlled by the same chipset. This means that only one can be in use at a time.
Dual displays require a native Thunderbolt 3 display or the appropriate Thunderbolt 3 adapter. Dual 4K setups will run at different refresh rates depending on which OS and connection types are being utilized.
Dual display support, including available resolution and refresh rates, is dependent on host hardware and drivers. Apple silicon M1 Pro, M1 Max, and M1 Ultra Mac models, Apple Intel-based Mac models, and Thunderbolt 4 PCs can support up to two displays at up to 4K @ 60Hz via Thunderbolt. Apple silicon M1 and M2 Mac models can support one external display up to 4K @ 60Hz via Thunderbolt.
Dual display configurations are possible with the Mac mini via the additional built-in HDMI 2.0 port.
The rear-facing Thunderbolt (USB-C) port supports USB connectivity up to 10Gb/s. The front-facing USB-C port supports USB connectivity up to 8Gb/s.
Connected drives may display the wrong desktop icon and not be ejectable through Dock Ejector when connected over the (2) rear-right-side USB 3.1 Gen 1 Type-A ports.
OWC Dock Ejector is developed for OWC products. Third party hubs and docks are not supported.
Recorded sound input playback will be quiet. Adjusting the input volume in System Preferences does not improve the softness of the recording playback. Connecting the desired input directly into the computer system will improve the recorded sound input.
A firmware update is required to use OWC Thunderbolt 3 Dock with OWC Innergize software. This firmware update is available on the OWC Thunderbolt 3 Dock Support Guide.