OWC Thunderbolt Pro Dock
The Best Networking, Media, And Docking For Pro Creatives
Fast & diverse: transfer files in a blink, daisy chain up to five Thunderbolt devices, use USB-C accessories, and add an HDMI display with two Thunderbolt (USB-C) ports
Full throttle bandwidth: share and stream up to 90% faster with a 10Gb/s Ethernet port
AVB ready: perfect for use in pro audio and video applications where synchronization of data streams is critical
Ingest content: easily handle multiple video and photo card uploads at up to 1630MB/s with CFexpress and SD card readers
Full speed connectivity: use your devices and accessories at their max speed with one USB-C and three USB Type A 10Gb/s ports
Add more viewspace: connect two 4K displays or up to a single 8K display via Displayport 1.4
Powerful: keep your notebook mobile use ready with 85W charging power
Silent and secure: fanless cooling mode and locking power connection for on-set use
Certified: Thunderbolt certified for Mac and Windows
Worry-free: 2 Year OWC Limited Warranty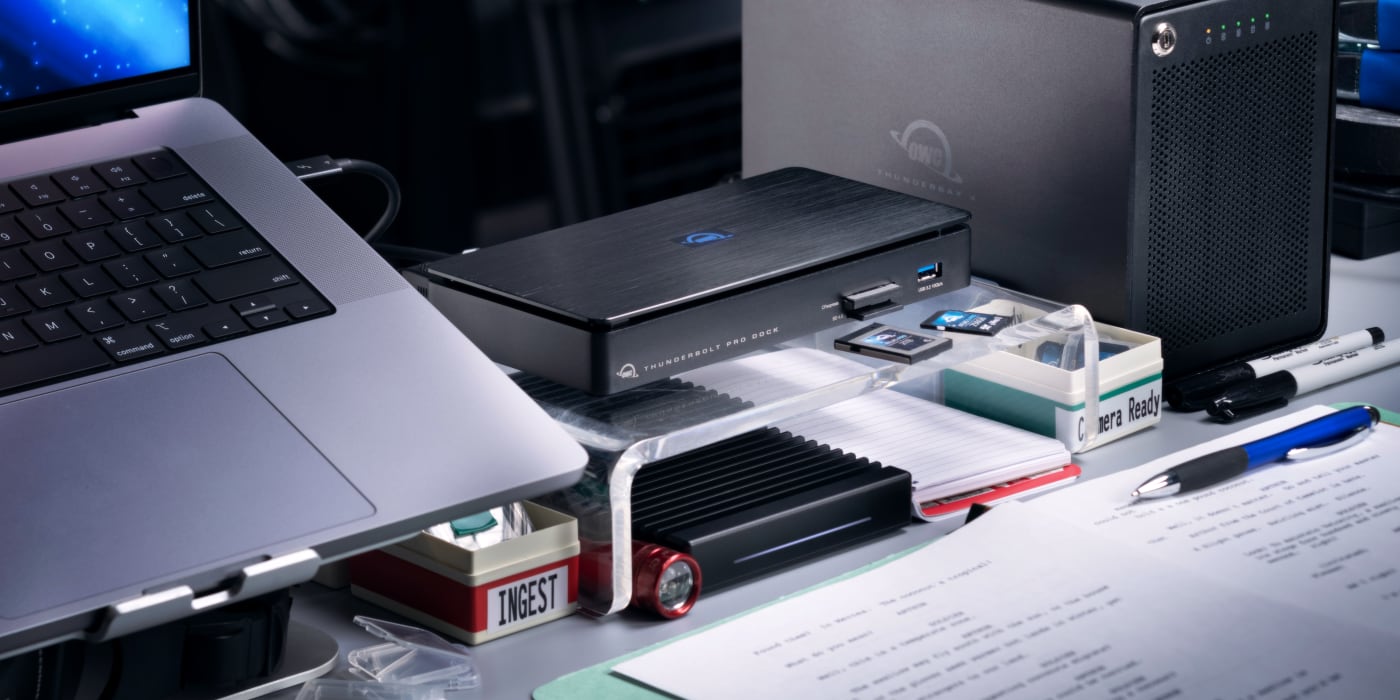 High-Bandwidth and Flexibility for Demanding Hi-Res Workflow Needs
Pro-level docking stations should be ready to handle any situation that you encounter in a production workflow. The OWC Thunderbolt Pro Dock is your on-location and post-production "mission control" with an unrivaled combination of super-fast 10Gb/s Ethernet, CFexpress and SD card readers, two Thunderbolt ports, one USB-C port, and three USB-A ports.
With this unique productivity enhancing configuration, you can ingest RAW video and photo files at speeds up to 1630MB/s. Collaborate in a shared workflow environment via the 10Gb Ethernet port to keep your projects streaming from file setup to final renders with headroom to spare. View projects in greater detail with an 8K display or create a panoramic dual 4K display. Daisy chain up to five Thunderbolt devices. All while powering your laptop and managing the typical USB devices you need to get the job done.


Add Media Versatility to DIT Carts

When you're on location, your cart needs the power of versatility. With conveniently accessible front-side CFexpress Type B and SD 4.0 card readers, the Thunderbolt Pro Dock helps you manage multiple card uploads efficiently. It's a huge asset when you're covering live events like conferences, festivals, and concerts where you're working with multiple videographers and photographers.
Calm & Connected

In addition to eliminating the on-set or in studio chaos of multiple connections, the Thunderbolt Pro Dock's solid aluminum fanless design lets you work in calm silence…even when transferring a huge file over a network
Small Footprint, Big Connections
Sized similarly to a single external drive enclosure, the Thunderbolt Pro Dock's aluminum case helps keep cart weight streamlined while easily fitting into a cart drawer or small box during cart breakdown.
With two Thunderbolt 3 ports, the Thunderbolt Pro Dock offers incredible potential to connect multiple devices to take on the biggest projects. You can daisy-chain up to 5 additional Thunderbolt devices to the Thunderbolt Pro Dock for studio-level storage, RAID arrays, eGPUs for graphics processing, or all of these combined and connected at 40Gb/s bandwidth.
Meet the challenges of any workflow with these Thunderbolt Pro Dock add-ons: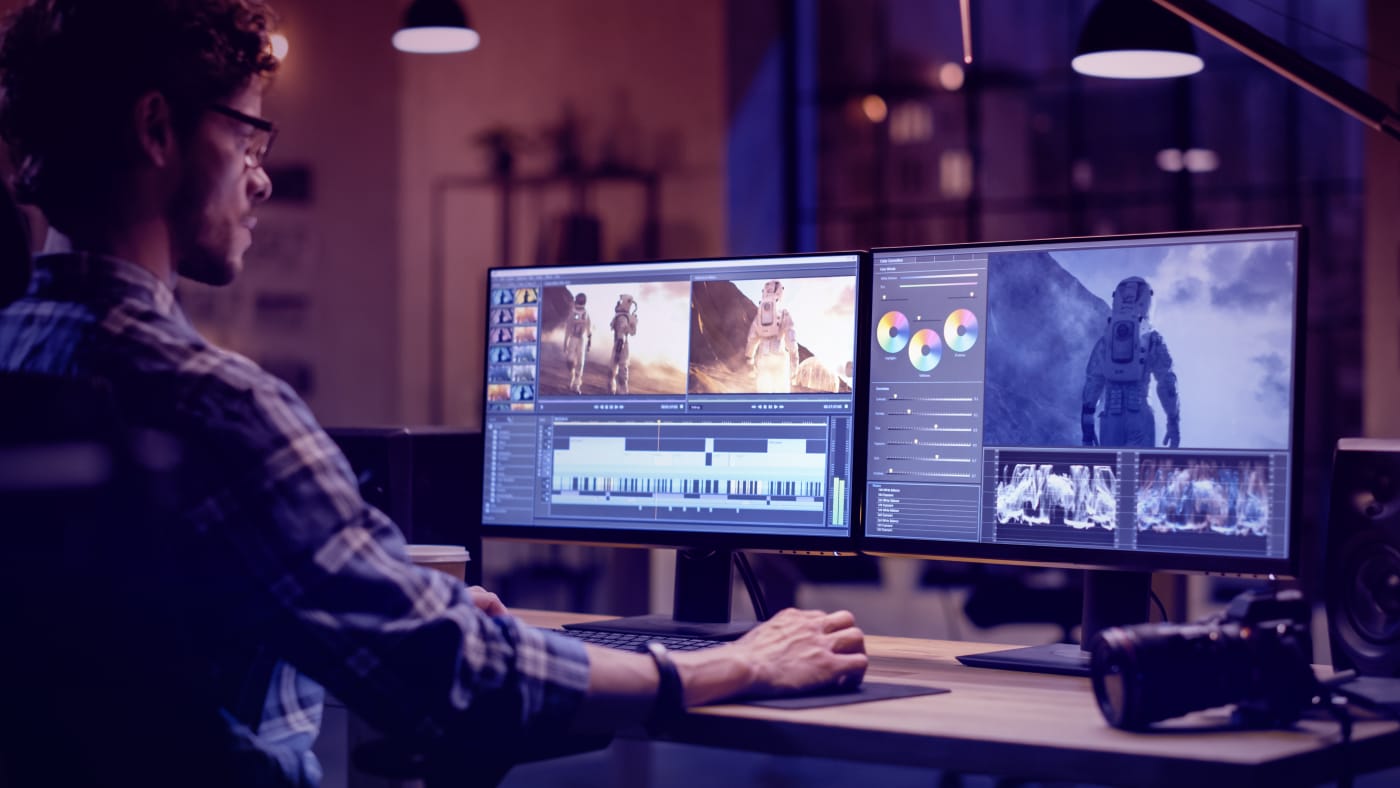 Conquers Workflows and Combats Clutter
When you're back in your office or studio, the Thunderbolt Pro Dock has the power and ports you need to manage your workflow and take control of your workspace. The Thunderbolt Pro Dock is compact, so you can comfortably manage your peripherals and keep your workspace free of clutter. Its 10Gb Ethernet connection keeps you connected at top speeds, and with 85W charging power, your notebook is charged up and ready to move.
OWC Thunderbolt Cable Included

OWC Thunderbolt Pro Dock comes with a certified 0.7M OWC Thunderbolt Cable. But if your workflow demands a different length to make the connection, OWC Thunderbolt (USB-C) Cables are the perfect choice.
Disconnect In One Click

Safely disconnect multiple drives in a single click. OWC Dock Ejector was designed by OWC hardware and software engineers to ensure all data is written before disconnection, saving time and protecting against data loss. It makes losing your hard-earned work a thing of the past.
Stabilize Thunderbolt and USB-C Cables

Active workspaces expose gear to bumps, shoves, or even the random tail wag from a pet. OWC ClingOn custom cable stabilizers (sold separately) screw into the OWC Dock or OWC Drive housing to reduce – if not completely eliminate – cable strain on Thunderbolt and USB-C connections so you can work with confidence even in the highest foot traffic environments.
Includes
(1) OWC Thunderbolt Pro Dock
(1) 0.7M (28″) Thunderbolt Cable
(1) External Power Supply and Power Cable
(1) Quick Start Guide for OWC Thunderbolt Pro Dock
(1) OWC Dock Ejector for Mac and Windows (software download)
2 Year OWC Limited Warranty
Detailed Specs
Display Support
Up to one 8K display @ 60Hz,
or one 5K display @ 60Hz,
or one 4K display @ 120Hz,
or two 4K displays @ 60Hz
Display Support by Port
Thunderbolt 3: Up to 5K @ 60Hz via a native Thunderbolt 3 display or 4K @ 60Hz via a Thunderbolt display or a USB-C display adapter
DisplayPort 1.4: Up to 8K @ 60Hz or 4K @ 120Hz
IEEE Specification Support
Data Rate
Thunderbolt 3: up to 40Gb/s
Ethernet Speeds (RJ-45)
10Gb/s (10GBASE-T)
5Gb/s (5GBASE-T)
2.5Gb/s (2.5GBASE-T)
1Gb/s "Gigabit" (1000BASE-T)
100Mb/s (100BASE-T)
Mac OS Compatibility
macOS 10.13 High Sierra
macOS 10.14 Mojave
macOS 10.15 Catalina
macOS 11.x Big Sur
macOS 12.x Monterey
macOS 13.x Ventura
PC OS Compatibility
Windows 11
Windows 10 64-bit Edition
Windows Server 2016
Driver Required
On a Mac, to enable high-power USB support for the Apple Super Drive, Apple USB Keyboard, and charging for iPad 1/2/3 generation devices, please install OWC Dock Ejector for Mac. This application includes a driver that enables support for these devices and charging functions.
In Windows 10, the driver for Ethernet functionality will be provided by the system when it detects this device. However, a new driver has been supplied which is not yet available in Windows and is available here.
Host Port Requirements
Thunderbolt (USB-C) port (backward compatible with Thunderbolt 2/Thunderbolt1)
Other Requirements
Requires macOS 10.13.6 or later.
Power Supply
External UL-listed universal auto-switching power supply
Power Delivery
(1) Thunderbolt 3 port with 85W
(1) Thunderbolt 3 port with 15W
Device Ports
(1) Host Port – Thunderbolt 3 (USB-C) up to 40 Gb/s (5000 MB/s)
(1) Thunderbolt 3 (USB-C) Port
(1) USB 3.2 Gen 2 Type-C Port up to 10Gb/s (1250MB/s) – USB 2.0/3.0 backwards compatible
(3) USB 3.2 Gen 2 Type-A Ports up to 10Gb/s (1250MB/s) – USB 2.0/3.0 backwards compatible
(1) DisplayPort Port
(1) 10 Gigabit Ethernet (10GbE) RJ-45 Port
Memory Card Slots
(1) CFexpress Type B
(1) Secure Digital (SD)
Dimensions
Height: 3.5 cm (1.4 in)
Length: 10.8 cm (4.3 in)
Width: 21.2 cm (8.3 in)
Certifications
CE
FCC
BSMI
RCM
VCCI
UKCA
IC
Thunderbolt
Ambient Temperature
Operating: 41°F to 95°F (5°C to 35°C)
Non-Operating: -4°F to 140°F (-20°C to 60°C)
Altitude
Operating: -304.8 m to 3,048.0 m (-1,000 ft to 10,000 ft)
Non-Operating: -304.8 m to 12,192.0 m (-1,000 ft to 40,000 ft)
Humidity
Operating: 8% to 90% non-condensing
Non-Operating: 5% to 95% non-condensing
Thunderbolt 2/Thunderbolt compatibility requires a certified Thunderbolt 3 (USB-C) to Thunderbolt 2 (mDP) adapter and a Thunderbolt 2 cable. This configuration provides data transfer at Thunderbolt 2 speeds (up to 20Gb/s) but does not support notebook charging.
Use of HDMI display via Thunderbolt port requires USB-C to HDMI adapter sold separately.
Based on time to transfer 4TB of 4K footage of 1 hour four seconds over 10GbE versus 10 hours forty four seconds over 1GbE.
Router and/or Network Switch must support AVB.
Up to 1630MB/s sequential read and up to 1326MB/s sequential write (max) performance was observed on a Windows 10 Enterprise PC equipped with a Gigabyte motherboard (Z270X-GAMING 7) with an Intel Core i5-7600K 3.8GHz processor and 16GB RAM running CrystalDiskMark 8.0.4, 1GB range, Q8T1. Up to 1547MB/s read and up to 1348MB/s write performance was observed on a MacBook Pro (13-inch, 2017, Two Thunderbolt 3 ports) with 8GB RAM and 2.3GHz processor running AJA System Test (5K resolution, 16GB file size, 16bit RGBA codec, single file test). Performance based on OWC Atlas Pro Ultra CFX card. Speeds can vary depending on card model and test environment.
Dual display support, including available resolution and refresh rates, is dependent on host hardware and drivers. Apple silicon M1 Pro, M1 Max, and M1 Ultra Mac models, Apple Intel-based Mac models, and Thunderbolt 4 PCs can support up to two displays at up to 4K @ 60Hz via Thunderbolt. Apple silicon M1 and M2 Mac models can support one external display up to 4K @ 60Hz via Thunderbolt.